PCBest Networks SIP PBX
Free, Powerful, Flexible, Light weight, and Easy to use IP PBX
A Free Windows SIP PBX, with rich and powerful features like ACD(Automatic Call Distribution), Ring Group, Call Parking, Auto Attendant, Pickup Group, Conference, Auto-Dialer, Database CDR report, Database PBX Status Report, and much more. You can set up your own call-center in just a few of minutes.  Support Plugin now. Customize your IVR menu by C# or vb.NET. Enhanced conference room. Support BLF now. Added TCP support for SIP. Support intercom feature now
Download Latest Free Version v3.64, Released August 16, 2016
Request for PBX source code, and customize it to your own languange and brand.

Old Version 3.62b 3.62a v3.61c v3.61b v3.60a 3.57e 3.56d 3.55 3.54a 3.52 3.51
Old Version V2: Download Latest Free Version 2.74, Released August 30 2012

V3 and V2 comparation:
1. V3 is completely database driven. V2 can run without database.
2. V3 works as Windows service. V2 is Windows desktop application.
3. V3 supports voice mail box and MWI. V2 only forward voice mail into email address.
4. V3 supports whisper for supervisor Monitoring. V2 doesn't support whisper.
5. V3 supports magic transfer code. V2 doesn't support this feature.
6. V3 allows developers to change the PBX settings on the fly as it is using database table for configuration.
7. V3 supports manager interface, so developers can develop a manager client for events and controling PBX.
8. V3 supports video phones. V2 only supports voice call.
Why choose PCBest Windows-based IPPBX
Free Edition vs Professional Edition
Setup Guide
Setup Guide for Google Voice DID

"I want to let you know, I think you have an awesome product! I've been in the telecom industry for over 22 years, and have always spent my personal time educating myself in what is available to the "average joe" in today's markets. Your product is efficient, simple, and of high quality. Thank you for such a great job!" --- Joseph A Pandolfo

"I've installed your SIP PBX, and I have to say: THANK YOU! It's just a great system, online within 5 minutes." --- Arjan Mensinga

"It is easy to setup, resource friendly and seems to run really stable. So far I'm pleased with it." --- Roger Kurrat

"Your PBX is working excellent. It is exactly what I am looking for. I built my home office phone system in just minutes, and I can even answer my business calls from my cell phone when I am out. Worth to try!" --- Allan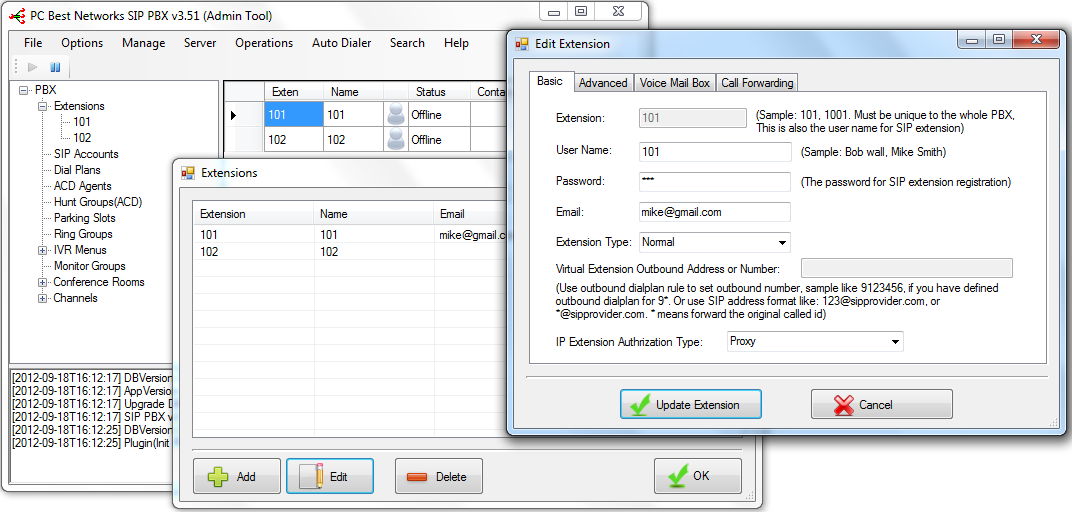 Free Edition vs Professional Edition


 

Free Edition

Professional Editions

Licensing
Price
Free
quote
Support
N/A
quote
Extensions
Unlimited
Unlimited
Number of simultaneous calls supported
8
8-256
For full pricing please contact us
General Phone System Features
Call Logging
Call Reporting
Blind Call Transfer
Attended Call Transfer
Call Forward on Busy
Call Forward on No Answer
Call Routing (DID)
Caller ID
Conference Calling
Auto Attendant / Digital Receptionist
Voice Mail
Music on Hold
Ring Groups
Hunt Groups
Call Parking
Call Pickup
Call Queueing
Call Recording
Conference Rooms
Advanced Features
Support Plugin
Only the first line can run plugin for demo purpose
Automatical Outbound Task From DB
Only allow 100 calls for demo purpose
TCP Manager Client
Only allow 1 TCP Manager Client for test and development purpose
Unlimited
Management and Scaleability
Web-based management console
Real Time Web-based System Status
Integrated Web Server
Automated Restore and Backup
Firewall Friendly and NAT Friendly
Support MS SQL Database
Ability to Run as Windows 2008 Virtual Machine
Ability to Run as VmwareVirtual Machine
Supports Windows Clustering
Allow Users to Configure their Own Extension Settings
Unified Communications and Mobility
Receive Voice Mail via Email
Public SIP ID for Extensions
Advanced forwarding rules based on caller ID, time & type of call
Standards-based Presence Information
 
Devices and Providers
Supports SIP Hardware Phones
Supports SIP Software Phones
Supports Leading SIP / VOIP Gateways
Supports Popular SIP /VOIP Providers
SIP Trunking Support
Create Free Communication Links to other SIP Servers
Codecs (Voice Compression)
G711 (a law and u law)
G726-32
GSM
Speex
Ilbc